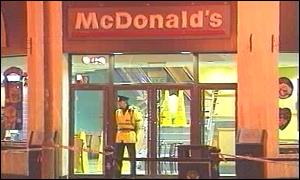 Source: BBC
An innocent remark by a man in a McDonald's restaurant led to him being stabbed to death, the Northern Ireland High Court has heard.
David Finn, 32, from Forthriver Parade in Belfast, died last February after being stabbed in the heart in McDonald's at the city's Castle Junction.
On Wednesday, the man accused of his murder, Anthony Hagans, 28, from Ross Street in Belfast, applied for bail.
A Crown lawyer said the catalyst for the killing was an innocent remark by Mr Finn as Mr Hagans was leaving the restaurant.
"It was to the effect: 'you push those doors – not pull them'," said the lawyer.
Added: 2004