Source: OklahomaCriminalLaw.com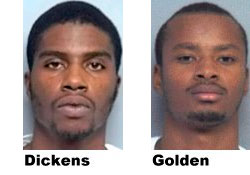 BILL BRAUN World Staff Writer
11/06/2002
Tulsa World, Page A20 of News
Their suspected accomplice was killed by police in a holdup.
A judge ruled Tuesday that two men must face trial for murder in a case in which their suspected robbery accomplice was killed in what prosecutors determined was a justified police shooting.
At a preliminary hearing, Tulsa County Special Judge Clancy Smith ordered Delvin Lamar Golden and Christopher Michael Dickens held on two felonies — robbery with a firearm and first-degree murder.
First Assistant District Attorney Doug Drummond contends that Golden, 23, and Dickens, 22, by law can be held accountable in the death of Charles Turner because it was "foresee able" that taking part in an armed robbery could result in a killing.
Turner, 20, was shot in the head during a Sept. 25 exchange of gunfire with officers who responded to a report of a robbery at a McDonald's restaurant at 2245 Southwest Blvd., investigators said.
Police said Golden and Dickens were arrested at separate locations near the restaurant.
Prosecutors say a principal in an armed robbery can be charged with "felony murder" if a death results from that inherently dangerous conduct, even if the defendant didn't pull the trigger and the slain person was involved in the robbery.
It is not unusual for a nontriggerman to be prosecuted for murder if he commits a felony that results in a death. But the law is used when the person who is killed is a target of the crime or an innocent bystander.
Police said three men entered the McDonald's and took money before fleeing around 10 p.m. Officers arrived and pursued them.
Police said Turner fired multiple shots and wounded a police dog, Rex, in the leg. Officer Shayne Thomas and Cpl. Tom Milburn returned fire, striking Turner.
Defense attorney Kevin Adams, representing Golden, challenged the legal basis for the murder charge Tuesday. He said testimony showed that "the robbery was complete" and "done with" when Turner was shot.
Police said Golden was found hiding beneath a boat in a yard. He was "not found anywhere near the field" where Turner was shot, Adams said.
On behalf of Dickens, Assistant Public Defender Julia Allen also maintained that the murder charge should be dismissed.
She indicated that Turner's death was linked to an "intervening act" by Turner alone — the gunshots that he fired.
Detective Bob Little testified that Golden said "he was forced to take part in the robbery."
Dickens said he and Turner were cousins and indicated that all three men planned the robbery together, Little testified.
Dickens and Golden are in the Tulsa Jail.
"From the Tulsa World, not an endorsement"
Added: 2004