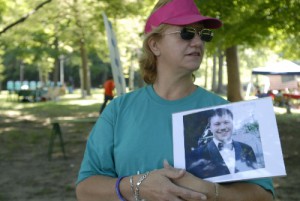 Source: Reading Eagle
Reading, PA – A Reading mother whose son was slain in October 2004 looked relieved and hopeful Saturday as she joined about 100 others at City Park in a march for nonviolence.
"I'm so glad to be part of this," Tina Stief said as the group gathered for the 1.9-mile walk organized by the Millmont-based Berks Peace Initiative. "It's a great gathering. We are all working toward having a more peaceful community. I am feeling some relief, but we have a long way to go."
Stief had just spent the week in Berks County Court at the trial of Hector M. Soto Jr., 22, of Exeter Township.
Soto was convicted Friday of second-degree murder in the home invasion slaying of Mi guel Colon, 38, of Reading.
The only eyewitness, Stief's son Jason, 20, was killed Oct. 14, 2004, while sitting in a car in the drive-through lane at McDonald's, Ninth and Spring streets.
Two accomplices in Colon's murder remain at large. There has been no arrest in Jason Stief's slaying.
Stief, who has been grieving the loss of her son for nearly three years, said she's grateful Colon was convicted.
"This is a small victory," Stief said of the conviction. "There are two others out there who participated in his slaying and there are five who participated in my son's slaying."
Stief last year organized Years of Tears, a victims' group devoted to unsolved cases in Berks County.
"It's great that there are so many people out here supporting this cause," Stief said, as she marched with members of her group.
Lisa A. Kneer of Millmont, director of Berks Peace Initiative, said she organized the group last March after learning that Kansas-based Morgan Quitno Press, using 2005 statistics, ranked Reading as the fourth-most dangerous city in the nation and the worst in Pennsylvania.
Kneer said she realized that there are so many organizations that are working toward the same goals to stop the violence.
"We want to send a clear message to the community that we are working together for unity and nonviolence," Kneer said, just before the group, carrying colorful banners, including some with peace signs, began the walk.
"It's a gorgeous day," she said. "We have people walking and talking from all religions."
Following the parade, about 40 organizations from different ethnic groups shared information. They also provided some entertainment, including an American Indian drum circle and Latin dancing.
Karima N. Archie, a teacher at the Islamic Center of Reading, 18 S. Noble St., said the center wants to be part of the peace movement.
"We want the public to get a better understanding that Islamic religion is all about nonviolence," Archie said. "We want to defuse the misconception. We truly are a peaceful religion.
The organization displayed a Quran and a banner that has 99 ways of writing God's name.
Descendants of the Lenape and other Native American tribes came from Huntingdon County to sell knives and other jewelry.
"We have artifacts from the Lenape tribes," said Terry Thompson of Standing Stone Village, Huntingdon. "The pure Lenapes don't exist anymore. We have mixed blood."
Patrick Abel, a volunteer with the Reading Religious Society of Friends, 108 N. Sixth St., set up a booth with posters of how the Quakers are devoted to nonviolence.
Jane Beck, a member of the society's peace and social committee, said the society is promoting peace.
"Whenever there is a social injustice, the Quakers are there to help," she said.
Added: July 26, 1007
---
Source: Unsolved Crimes
On October 14, 2004 at approx 10:00 PM, Jason Stief was shot to death while waiting for food he had ordered with his 2 friends at the McDonald's drive thru located at 9th and Spring Streets in Reading, PA. 5 men, all wearing hoods and masks, surrounded Jason's car and shot him 7 times in the face and neck.
On October 3, 2004 Jason's friend and neighbor, Miguel Colon, was killed in a robbery attempt in his home, and Jason was an eyewitness to the crime. Newspaper reports about Miguel's death, printed Jason's full name as being able to identify the killer of Miguel Colon.
On the night of Jason's death he was driving a 1999 silver/gray Hyundai Elantra, 4 door. 5 men came out from an alley and surrounded Jason's car. They were wearing hoods and masks.
Jason, being in the drive thru line was boxed in with a vehicle in front of him and one in back of him so he could not flee the scene. The shooter approached the driver side door and opened fire on Jason. All 5 men fled on foot in different directions. It has been reported that a few of the men were scene fleeing in a White Bronco type vehicle down the street from Mcdonalds. The vehicles that "boxed" Jason's car in, did flee the scene but later came forward and spoke with police.
Jason's girlfriend was in the front passenger seat and his friend Mickey was in the back seat, neither were injured.
Law enforcement has reported that there were numerous witness yet few have come forward with information.
Added: July 26, 1007