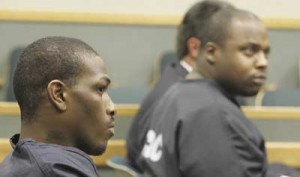 Source: Las Vegas Review-Journal
A tourist who watched a robber shoot and kill a close friend last month in a McDonald's parking lot recounted his version of the slaying in court Tuesday.
David Cross, testifying in a preliminary hearing in Clark County Justice Court, said his buddy, 49-year-old Thomas Latimer, heard a scream at the McDonald's and chased and struggled with one of two robbers.
Then, a second person got out of a nearby car and sneaked up on Latimer.
"At that point, Mr. (Charles) Walker arose out of the car … and then Mr. Walker fired two shots into Mr. Latimer," Cross said.
The suspects in the murder, Charles Anthony Walker and Sean White were arrested shortly after the killing and charged with murder and robbery.
In court, Cross sat about 10 feet from the shackled suspects and identified Walker as the triggerman and White as the person who raided a McDonald's cash register Jan. 21 near Twain Avenue and Swenson Street.
Cross recalled how he tended to his dying friend, a resident of Orlando, Fla., in town for a convention.
"I just spent time with Tom. I saw where the bullet hole had entered," Cross said. "I just stuck my hand over his chest and tried to stop the bleeding.
"I asked, 'Where else (were you hit)?' And he said he was hit in the arm," Cross said. "He asked me to tell his wife…"
Objections from Walker's attorney prevented Cross from finishing the sentence.
McDonald's manager Christopher Oman identified Walker as the man who brandished a gun during the heist that netted roughly $250 and ended with Latimer's death.
Christie Chaidez, 16, said she was working the McDonald's register when Walker and White approached and ordered a "hot and spicy and a No. 1."
She said Walker handed her a $5 bill for the food. She was still holding the money, she testified, when White hopped the counter and dipped into the register.
"I stepped back and the guy with the gun, he saw that I still had the money in my hand," Chaidez said. "So he told me to give him the five dollars."
Added: July 4, 2008
---
Source: Las Vegas Review-Journal
Tourist Thomas Latimer was being a good citizen in January when he tried to stop two robbers at a Las Vegas McDonald's.
The decision proved deadly: The 49-year-old Good Samaritan was shot twice and left to die in the fast food restaurant's parking lot on Paradise Road.
On Thursday, Latimer's two killers pleaded guilty to the crime, avoiding the possibility of a death sentence.
"Guilty," triggerman Charles Anthony Walker, 26, said when asked by District Judge Joseph Bonaventure about the murder.
Walker, an ex-con who had just gotten out of prison in California prior to the shooting, pleaded guilty to first-degree murder with use of a deadly weapon, conspiracy and multiple charges of robbery. He is expected to be sentenced to life in prison without parole under the terms of the deal.
His accomplice, Sean Lewis White, 21, pleaded guilty to second-degree murder, conspiracy and robbery. He is expected to receive a life sentence with parole eligibility after a minimum of 30 years.
"Our goal, and the goal of the victim's family, was to ensure that Charles Walker never sees the light of day again," Clark County prosecutor Robert Daskas said of the plea agreement.
According to authorities, Latimer, of Maitland, Fla., was in Las Vegas in January to attend the World of Concrete show. He and a pal, David Cross, were eating at the McDonald's near Twain Avenue and Swenson Street when Walker and White came in the restaurant.
The two ordered a "hot and spicy and a No. 1," then White jumped the counter to steal money from the cash register, and Walker brandished a gun.
The two ran to a car in the parking lot, and Latimer followed.
Latimer struggled with White in an attempt to stop him, prompting Walker to emerge from the car with a gun and open fire.
Authorities said a team of Las Vegas detectives happened to be in the area conducting surveillance in another investigation. They heard the gunshots, then found the suspects' vehicle in the area and stopped it. Video surveillance and multiple witnesses also linked Walker and White to the crime. Authorities said Walker and White were also responsible for a robbery at a different McDonald's in Las Vegas earlier in the day.
Walker's defense attorney, Joseph Sciscento, said Walker agreed to the deal because he felt bad for White, whom Walker said had a lesser role in the crime.
"He felt he was fully responsible, and in order for his co-defendant to receive a fair negotiation, he agreed to step up," Sciscento said.
"He has been in and out of jail since he was 13, and he was basically abandoned by his mom," Sciscento said.
White's attorney, Randall Pike of the Clark County Special Public Defender's Office, said White was not involved in the actual shooting of Latimer.
"Mr. White did not have a weapon. He did not produce a weapon. He did not fire a shot," Pike said. White and Walker, both from Los Angeles, spent time in the California Youth Authority. Walker had just been released from a 40-month bank robbery sentence in California at the time of the slaying. Sentencing in the Las Vegas case is scheduled for Sept. 14.
Added: July 4, 2008