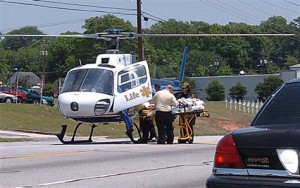 Source: MSNBC
COVINGTON, Ga. – A man accused of driving a car that struck two sisters and their three small children outside a McDonald's restaurant hit them intentionally, authorities said Wednesday. One of the children died later Wednesday at a hospital, a relative said.
"There was clear intent to injure the people. It was obvious," Police Chief Stacey Cotton said. "This was absolutely not an accident."
The car on Tuesday struck the five, hit the restaurant, then backed up and hit them, police said. All five were hospitalized.
Avery Nicole King, 2, who had been in critical condition, died Wednesday afternoon at an Atlanta hospital, said her uncle, Paul Casola, said.
Lanny Barnes, 46, appeared in court Wednesday. He faces five felony charges of aggravated assault and was ordered held without bail pending a mental health evaluation.
Barnes' mother, Mary Barnes, said her son has suffered depression for years.
Public defender Anthony Carter, who represented Barnes at Wednesday's hearing, indicated his mental health could be a factor in the case.
"We are beginning a full investigation into all aspects of this case, including Mr. Barnes' mental capacity at the time of the incident, as well as past mental health treatment," Carter said. McDonald's worker Ryan Boldman-Snyder was outside on a break when the attack happened and said the driver was "smiling the whole time."
There was no apparent connection between the victims and Barnes, and authorities have no motive, Cotton said.
Added: August 7, 2007