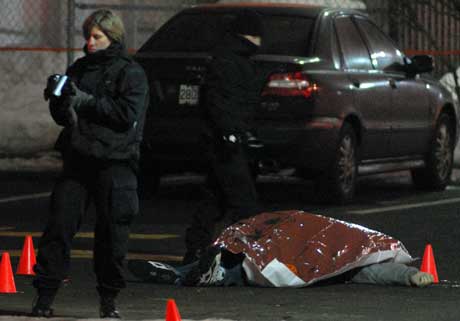 Source: Montreal Gazette
MONTREAL – One of the men killed in Sunday's double homicide himself committed a double murder in 1983.
Kirk Murray, 47, was one of two victims in a double homicide carried out Sunday afternoon in the parking lot of a restaurant in Notre Dame de Grâce.
Both victims are believed to be Châteauguay residents and, according to police sources, appear to have been killed by a hired gunman.
Murray, who received a life sentence for killing two young men near the Verdun Yacht Club in 1983, had been released on full parole in 2003 after appearing to have turned his life around by focusing on his family. (He had two children at the time he was released in 2003.)
The other man killed on Sunday has been identified as Antonio Onesi, 51. He was not known to police.
Murray, on the other hand, was known for having carried out two cold-blooded murders after arguing with one of his victims over whose dog would win in a fight. He left a party near the marina after the argument and returned with a rifle. According to news reports published in 1983, Murray made the man he had argued with beg for his life before shooting him. He then fatally shot another man who was at the party.
He quickly pleaded guilty to second-degree murder after his arrest. In court, he said drugs and alcohol influenced in his actions that night, but still received a life sentence.
At the time Murray was granted full parole in 2003, he told the National Parole Board that 10 years before he had feared for his life.
Murray recounted that in August 1993, while out on an escorted leave from a penitentiary, he escaped briefly because he had been pressured into getting involved in drug trafficking while behind bars. When he was arrested in October 1993 for being illegally at large, he was found to be carrying a firearm. He later described the weapon as his protection "from Mafiosi hired killers."
The parole board's written decision to release Murray in 2003 does not elaborate on what threat Murray actually faced in 1993.
The Montreal police said Monday that no clear motive has emerged yet in their investigation.
Added: September 10, 2010
---
Source: Global Maritimes
MONTREAL – RCMP arrested a 42-year-old Montreal man Monday in Truro, N.S., in connection with a brazen double murder at a McDonald's restaurant in Notre Dame de Grâce on Jan. 24.
Investigators from the Montreal Police department's major crimes squad will travel to Nova Scotia Tuesday or Wednesday in order to interview Jeffrey Lynds, said Montreal Police spokesperson Anie Lemieux.
Charges against Lynds related to the deaths of two Montreal men, ages 47 and 51, at the McDonald's restaurant on St. Jacques St. in N.D.G. will be laid at that point, Lemieux said.
One of the victims in the double slaying was Kirk Murray, 47, a convicted killer. The other victim was not known to police and does not have a criminal record in Quebec.
Added October 19, 2010