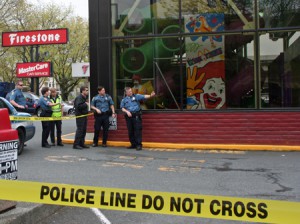 Source: MyBallard News
Police say a man was killed this afternoon in the McDonald's parking lot at 14th and Market. Detective Jeff Kappel with Seattle Police tell us that a 67-year-old man died and investigators are trying to determine the cause.
Police first got the call at 12:15 p.m. When officers arrived on scene they saw the man pinned under the car. A group of officers lifted the car off the man and medics with Seattle Fire attempted to revive him, but he was pronounced dead at the scene.
The traffic collision investigation squad is on scene trying to determine how the car ended up on top of the victim. Kappel tells us that the 37-year-old female driver had backed out of a parking spot and headed south toward the exit when she ran over the victim. "We don't even want to say that she hit him," Kappel says. He says investigators are trying to determine if the man may have already been on the ground.
---
Source: Seattle PI
Seattle firefighters and police are responding to a fatal car-versus-pedestrian crash in Ballard.
The crash occurred shortly before 12:20 p.m. Monday at a McDonald's restaraunt near 14th Avenue Northwest and Northwest Market Street. The pedestrian died following the incident.
According to KOMO/4, police are attempting to determine how the man ended up under the Pontiac Grand Am.
The 37-year-old woman behind the wheel told investigators she was backing her car out of a parking stall when she realized the man was under her car, Seattle Police spokesman Jeff Kappel told KOMO/4. Investigators hope to determine where the man was when the woman began to back out.
---
Added October 4, 2010 (Tip provided by James)