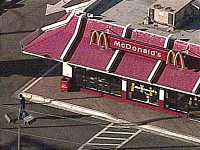 Source: NBC 4
RIVERDALE, Md. — Investigators say one person was shot and killed Friday afternoon at a Prince George's County McDonald's restaurant.
The attack happened around 3 p.m. along the 5600 block of Riverdale Road.
Investigators told News4 that 33-year-old Henry Lockhart of Lantham was arguing with two other men in the parking lot of the restaurant. The three moved into the restaurant, where one man pulled out a gun and shot Lockhart.
Officers said several shots were fired. One hit Lockhart, who died at the scene.
Several customers were inside the restaurant at the time of the shooting. They had to remain at the scene since police consider all of them to be witnesses to the crime.
The two attackers fled, leaving behind their red Honda Accord. Police are still looking for the two attackers.
Added: December 16, 2005
---
Source: News Channel 8
Police are looking for the person who committed a fatal shooting at a Riverdale McDonald's.
Police say it may have started as an argument in the parking lot of the fast food restaurant in the 5,600 block of Riverdale Road. It ended when one person was shot and killed inside.
Investigators are in the restaurant talking with several people inside who may have witnessed the shooting. Police say they're also looking for a red Honda Accord that may have been the shooter's getaway car.
Added: 2004