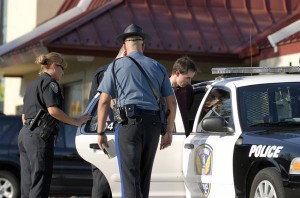 Source: Columbia Missourian
COLUMBIA — Less than 15 minutes before 32-year-old Jeremy Bohannon was scheduled to visit his children at a Columbia McDonald's, he was shot down in the parking lot.
William Clinch, 37, of Hallsville, was arrested in the slaying at 3206 Clark Lane on Sunday. Columbia police said Clinch shot Bohannon, of Rocheport, several times with a semiautomatic handgun at 5:17 p.m. Bohannon was pronounced dead at an area hospital a short time later.
Clinch described himself on his MySpace page as "Fierce and determined, relentless towards my enemies." He continued by saying, "Good to the children because I care about them. I will be faithful to them no matter what sacrifices must be made."
Clinch, who had no previous criminal record according to Missouri Case.net, was being held at Boone County Jail on $5 million cash bond Monday night.
Bohannon was married to Clinch's sister, Amanda Clinch; the couple divorced last month, according to court documents. The couple had three children, said Elizabeth Sanders, who worked with Bohannon as a purchasing buyer in the City of Columbia Finance Department. Bohannon had visitation rights every Thursday and Sunday from 5:30 to 7:30 p.m. He was scheduled to have supervised visitation until he completed anger management classes and a parenting program.
Police said the two men were involved in an ongoing feud. Amanda Clinch, William Clinch and another relative, Dennis Clinch, had each filed restraining orders against Bohannon, according to court documents. Bohannon was arrested in July on suspicion of violating a restraining order filed by his ex-wife, according to court documents. A court trial in that case had been scheduled for Sept. 12.
The Clinch family could not be reached for comment.
Bohannon went to the McDonald's on Sunday afternoon for a pre-arranged meeting with his ex-wife to exchange care of their children, Columbia police Capt. Brad Nelson said. Nelson said police think Clinch knew about the meeting beforehand.
There were more than 10 people in and around the McDonald's at the time, but Nelson said Clinch's sole target appeared to be Bohannon.
"Our understanding is that it happened very fast," Nelson said.
Clinch put his weapon down and surrendered upon seeing police officers, Nelson said. Police were interviewing family members Monday and are not looking for any other suspects, Nelson said.
"We feel confident that we have the individual responsible for this murder," Nelson said. "At this time we feel that there was no one else directly involved."
Wendy Wiebold, who worked with Bohannon for three years, described him as a nice, gentle person. "He was just a wonderful person, and a very dedicated father. His children were everything to him," she said.
Sanders, another co-worker, said he regularly attended church and that his children were important to him.
"He had great hopes of furthering his career in order to make their lives richer," Sanders said. "We were baffled by the enmity his ex-wife and her family had for him. It was very difficult for him, because they would put restraining orders on him and he didn't know what it was for."
"Uncle Bill, I believe what u were thinking was on the rite track … but the way it ended up, I will miss u," wrote a MySpace user whose profile name was Shadow..Gone but never 4gotten.:. with a URL that identified her as Kristin D. Heath. That page was updated Monday.
The Major Crimes Unit was investigating the shooting Monday. Anyone with information about it may call Columbia police at 874-7652.
Sunday's homicide was the second this year; the other homicide occurred in April when Tedarrian Robinson was shot and killed in a drive-by incident.
Added: July 26, 2007
---
Source: KOMU 8
COLUMBIA – One man is dead and his former brother-in-law is in custody after a shooting Sunday evening at McDonald's.
32-year-old Jeremy Bohannon of Rocheport was shot at the McDonald's on Clark Lane. He was taken to an area hospital, where he was pronounced dead. 37-year-old William Clinch of Hallsville was detained and charged with 1st Degree Murder and Armed Criminal Action.
The Columbia Police Department says family members claim the two had a long standing feud. Police believe Clinch waited for Bohannon to arrive before shooting him.
Clinch was reportedly chasing Bohannon in the parking lot and because the shooting happened right at dinner time, there were several witnesses inside and outside the restaurant.
"They were just amazed that it was in fact happening. Some said they weren't sure it was real, and some said it was just amazing that a man was being pursued on foot being shot at," said Columbia Police Captain Brad Nelson.
"My son called me around five, he works in there. Saying that someone rolled up into the parking lot and started shooting. That he was scared and wanted to come home," said Terry Murphy, whose 15-year-old son works at McDonald's.
Police questioned witnesses including McDonald's employees inside the restaurant for more than three hours. The restaurant was closed for the night.
An autopsy is scheduled for Monday, September 3.
Added: September 4, 2007
---
Source: Columbia Tribune
A Hallsville man allegedly shot and killed his former brother-in-law in the parking lot of a McDonald's in east Columbia, the culmination of what police described as a longstanding feud.
William P. Clinch, 37, was taken into custody at the fast-food restaurant at 3206 Clark Lane on Sunday shortly after officers with the Boone County Sheriff's Department and Missouri Highway Patrol responded to a report of shots fired at 5:17 p.m.
The victim, identified as 32-year-old Jeremy R. Bohannon of Rocheport, was transported to a local hospital where he was pronounced dead.
Bohannon, who worked as a buyer for the City of Columbia's finance department, until recently was married to Clinch's sister, Amanda S. Clinch. Family members told investigators that the two had feuded for some time, Columbia police said in a news release.
Clinch was being held at Boone County Jail on a $5 million cash-only bond on charges of first-degree murder and armed criminal action. A motive is still under investigation, police said. Court records show that Bohannon's wife was granted an order of protection against him on Sept. 19, 2006. Bohannon was later ordered not to have any contact with his wife, including by e-mail, and to deliver a firearm to the sheriff's department for safekeeping.
On June 2, Bohannon was charged with violating the order of protection, and a trial was scheduled for next week in Boone County Circuit Court. Amanda Clinch was granted a divorce on Aug. 1 and was given custody of their minor children. Bohannon was granted only supervised visitation rights until he completed an anger management class and a parenting program.
Court records also show that William Clinch and Dennis Clinch Sr. also had been granted orders of protection against Bohannon.
The McDonald's where Sunday's shooting took place is located near Highway 63 and Interstate 70 in east Columbia. Witnesses said multiple shots were fired across the restaurant's parking lot, and police spent more than two hours gathering evidence and interviewing witnesses at the scene. This is Columbia's second homicide of the year. On April 18, 17-year-old Tedarrian C. Robinson of Columbia was shot in the back of the head and killed while riding in a car in south Columbia. Lorenzo Ladiner, 20, and Kristopher M. Prince, 17, were later arrested and charged with second-degree murder.
Added: September 4, 2007
Submitted by Rob